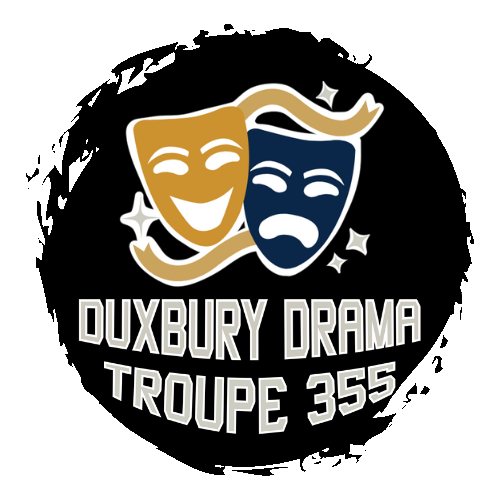 DUXBURY DRAMA CLUB
Troupe #355 in Duxbury, Massachusetts
"Act well your part; there all the honour lies." - Alexander Pope (Motto of the Thespian Society)
About Us
Duxbury Drama Club, initiated in 1972, is troupe number 355 on the Thespian Society list. As of now, there are over 5,000 troupes in the International Thespian Society. Here in the International Thespian Troupe #355, we strive to give students the opportunity to experience the theatrical arts. We produce 12 shows each year, with weekly meetings called "worknights" on Wednesdays from 7-9.
Our Shows
Providing an emotional and theatrical experience for our community is our number one job. Duxbury and its surrounding towns are an incredibly theatre-rich group with an enthusiastic view of the arts.
The shows we put on vary from year to year, but our show types stay consistent:
Fall Fest
Fall Fest is a friendly contest between the Freshmen, Sophomores, and Juniors. It happens in late October. All three shows are about 30 minutes each, and convey a wide range of emotions; from comedy to drama to tragedy, our club puts on a fantastic three-show fall bonanza. Awards are given out at the end after the judges in the audience - usually teachers - vote and give little summaries for each actor. Those who have the highest points for their acting ability get an award. At the end of the three shows, tallies are built up and the show with the highest overall rating gets their grade and year put on a plaque.
Musical
Most glorious of all; our widest audience and widest cast. We put on the Musical after hundreds of hours of practice and work from all sides, cast AND crew. Usually from mainstream media, our shows are the greatest attraction for the drama club in the spring. The Musical happens in Late January to Early February.
States
The state of Massachusetts has an Educational Theatre Guild which holds a yearly contest. METG is hosted by local towns and is a contest of which towns act the greatest. Duxbury has put on a variety of shows over the past many years, and will continue to take part for years to come. States happens about the same time as Musical, so sadly many people casted in States cannot fully participate in the Musical.
Full Length
Every mid spring, the Drama Club puts on a full length show, usually about an hour. Our Full Length show is usually comedic, but occasionally we have had more emotional theatrical experiences. Full length is directed by a senior who stands up to the challenge of directing everyone. The show usually has a good amount of actors from every grade, freshman through senior.
Spring Fest
Almost exactly like Fall Fest, but in the late spring to early summer. Though instead, no specific grade wins and the three different shows are made up of actors from all grades (9-12). Awards are also given out at this show.
Contact Us
Advisors:
Technical Director:
---